SIMPLEST APP TO MANAGE PATIENT RECORDS 
Prescriptions Made Easy For Doctors
Prescrip helps doctors across various specialities to manage their patient records and grow their practices. Start using Prescrip today, to discover how thousands of doctors have improved the quality of time spent with their patients after saving hours from writing prescriptions.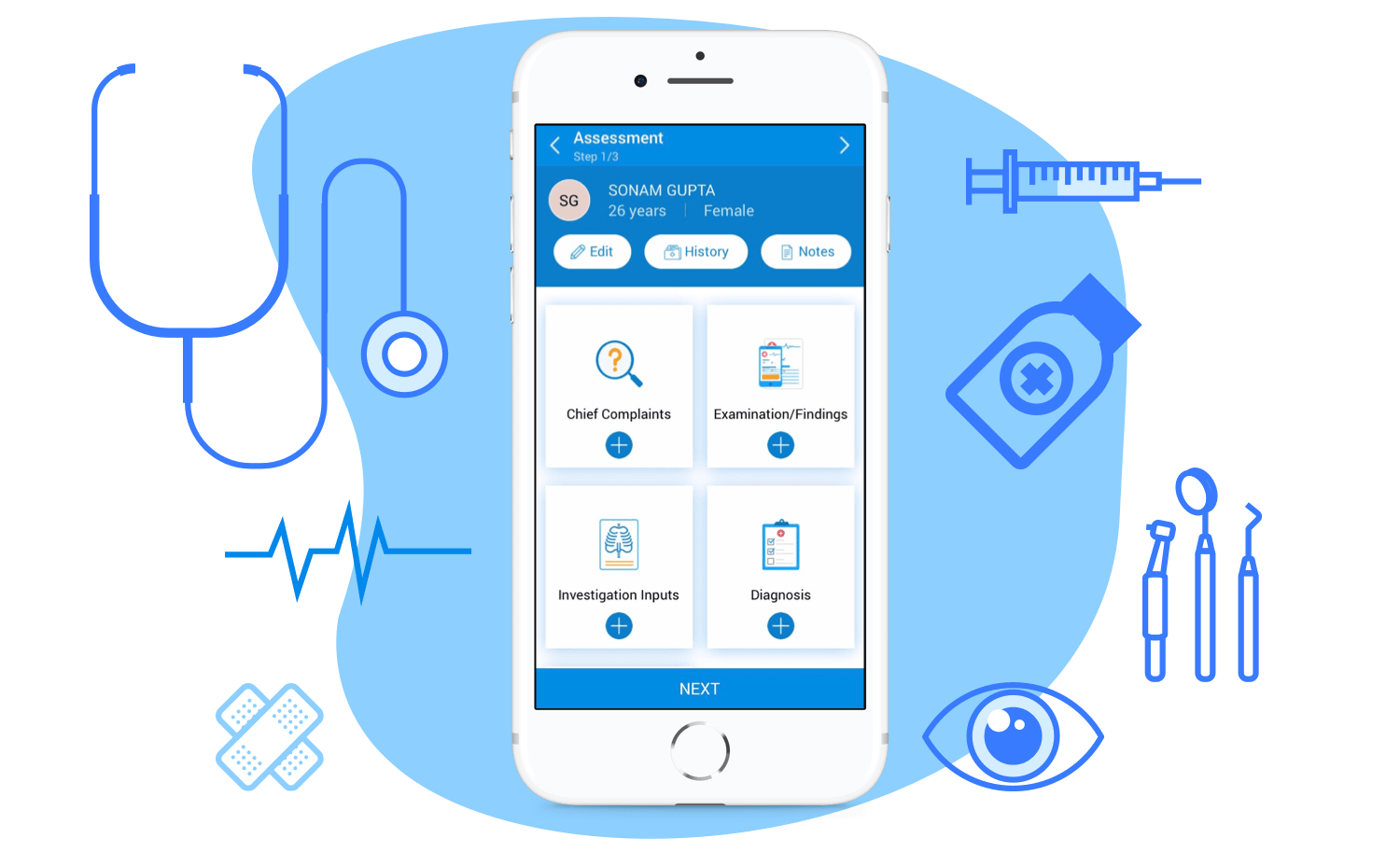 Get Prescrip Today!
Are you ready to improve the quality of your patient relationships? Request a demo and learn more about how we can help you grow your healthcare practice today.
Manage Patient Records with Ease
Prescrip makes managing your clinic's medical records a breeze
Quickly Print Prescriptions
Prescrip helps you complete prescriptions in seconds and print them out instantly
Easy Patient Management
Easily access all your patient data anywhere
Track Treatment History
Save hours by getting history of each patients medical records right from the app
Generate Reports
Create easy reports for your clinical research, patient studies or health pattern analysis.
Favourite Prescriptions
You can spend more time making diagnosis and less time writing similar prescriptions
Organize Notes & Images
Save hours of your time and costs spent on managing patient records
Drive Referrals
Make it easy to grow your practice by leveraging peer and patient referrals
Send Key Reminders
Contact patients via automated SMS for appointment & dosage reminders
Does Your Medical Practice Need Prescrip? 

Are you spending hours writing the same prescription over and over again?

Do you wish you could improve the quality of time spent with your patients?

Is precious time being spent looking at past records to make sure you are able to improve the quality of treatment?

Wanting to do more to grow your practice?
If you answered 'yes' to any of these questions, you need to learn more about Prescrip and find out why thousands of Doctors are switching over.
Our professional team of experts will help customize the app to your unique needs, and help you start immediately.
Explore our support section to find answers to Frequently Asked Questions about Prescrip, or watch the video below to learn more about us. 
We Make Creating Prescriptions Easier Than Ever Imagined
We make it easy for you to access your commonly prescribed drugs from our large database, set the regimen, share key instructions and print out the prescription on a smart, branded letterhead in just seconds. You will never go back to the old way of making prescriptions again.
Why 10000+ Doctors Trust Prescrip?
 Our best brand ambassadors are our clients themselves. Here's what they have to say about how Prescrip has improved their patient experience.
Uniquely simple, now I don't have to worry about missing any details, prescrip has it all covered.
Dr. Hemal Shah
Nephrologist M.D. DNB (Nephrology), MNAMS
So Simple, So Fast and No Noise. Just perfect.
Dr. Amod Potnis
Paediatrician MD DCH (Paed)

From 70 to 130 patients per day, this is my progress with Prescrip. No other product comes close.
Dr. Pradeep Gadge
Leading Diabetologist MD (Medicine), DPH, Diploma in Diabetology, FRSH
Extraordinary product with excellent customer service. Truly Futuristic and Reliable.
Dr. R M Wadera
Orthopaedic Surgeon M.S. (Ortho) Mumbai

Prescrip is so much faster than writing, my follow up patients get a fresh printed prescription in seconds and my hands dont ache any more
Dr. Nitin Burkule
Senior Cardiologist MD, DM (Cardiology), DNB (Cardiology)
Amazing Printed Prescriptions, Maintaining Patient Records with Prescrip is so Easy and Reliable
Dr. Pratit Samdani
MD (Internal Medicine), FCPS, DND, FCCP, F. Med, FSCCM
A Great App for dermats, I can show the progress of my treatment to my patients
Dr. Vaishali Kulkarni
Orthopaedic Surgeon M.S. (Ortho) Mumbai